CDPlus Direct-Fit Wiper Blades
CDPlus Direct-Fit Wiper Blades
CDPlus Direct-Fit Wiper Blades are the complete premium one box solution that fits first time - every time! In each box is a correctly matched pair of OE standard blades for front screens or single blade for rears specific to the vehicle, featuring fixed factory mounted fittings.
CDPlus blades are manufactured to Original Equipment matching quality standards and use only 100% natural European rubber. The natural rubber provides more efficient and quieter wiping when compared to standard wipers and allows greater flexibility in colder temperatures, giving improved winter resistance and longer service life. They feature an attractive flat aerodynamic design with a 'flexed' blade that distributes even contact pressure for increased wiping performance. An integrated spoiler reduces lift, even at higher speeds. CDPlus Wipers give optimised visibility with superior performance.
CDPlus Direct-Fit Wiper Blades give 100% coverage of all popular modern front and rear applications.
---
Factory matched premium quality pairs
OE matching standards (ISO9001, ISO14001, ISO/TS16949)
100% natural European rubber
Autocat+ Enhanced Data V9 Compliant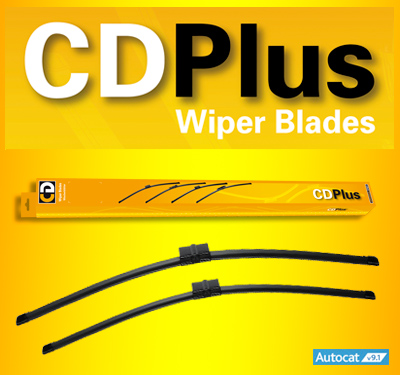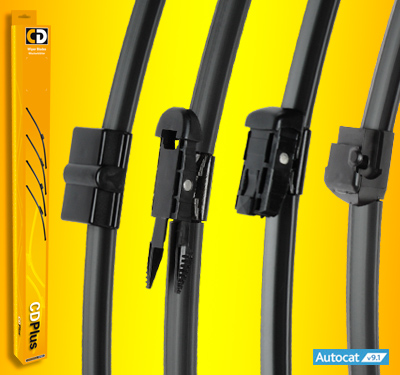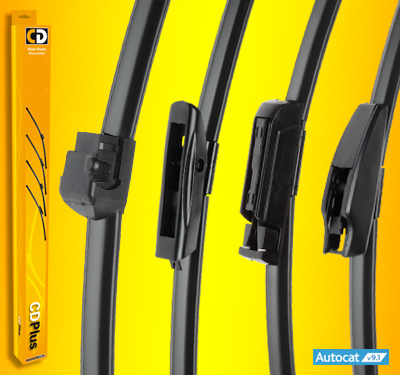 About CDPlus Direct-Fit Wiper Blades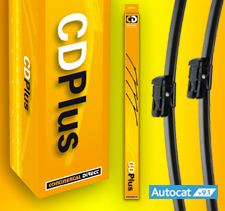 Modern vehicles now feature a great variation in windscreen sizes, often with driver and passenger side wiper blades of differing lengths and blades with vehicle specific adaptors. Where the traditional Universal Wiper blade once provided the answer, vehicle specific Direct-Fit wiper blades now offer the best selling solution for both the customer and the factor.
Instead of identifying and sourcing two different blades, reach speedily for the one box solution. With factory fixed fittings there are no assorted adaptors to contend with, making fitting CDPlus Direct-Fit wiper blades to your vehicle a quick and simple process. The result is happier customers - no lost time, no lost sales, no costly returns, no wastage!
The vehicle specific advantage is the confidence and knowledge that CDPlus Direct-Fit are a correct fit - first time, every time.
CDPlus Wiper Blades are featured regularly in the trade press, most recently in the November 2019 issue of Professional Motor Factor magazine.